Leverage User Generated Content in 2023 by Rachel Dennis

Originally published on www.nichepursuits.com

Digital Marketing


Diving into the realm of User-Generated Content or UGC platforms might seem daunting at first. We get it – it's a vast landscape that can be challenging to navigate. Between influencers and online communities, it's hard to know where to start.
But don't worry – there are lots of helpful UGC platforms out there that can help you maximize your marketing efforts. From programs that completely automate your content curation to those that help you take control of each post, there are plenty of options available.
So, let's break down both the benefits and options you have when it comes to these handy user-generated content options. When partnered with the right company, you can leverage their expertise to create high-quality content for your brand.
Why Is User-Generated Content So Important?
In the ever-evolving digital world, UGC platforms have emerged as a pivotal part of an effective marketing strategy.
They serve as vibrant hubs where social media posts, reviews, and branded content are created by users, contributing to the rich tapestry of online interactions.
But what makes UGC so significant over other marketing strategies?
Authenticity: UGC campaigns bring a level of authenticity that traditional advertising often lacks. They amplify the voices of your customers, create community platforms, and build trust, much like digital word-of-mouth marketing.
Content Generation: Top UGC platforms are a content gold mine. Brands can collect and publish UGC, saving time on content creation while simultaneously providing fresh and diverse perspectives about their brand.
Trust Building: Seeing real people using and endorsing your products or services on their personal social media platforms instills confidence in potential consumers. It's a testament that your offerings are not only reliable but also appreciated by many.
Creativity: UGC platforms unleash the creative potential of your audience. Encouraging them to create UGC can result in unique, innovative content, adding a fresh angle to your brand story.
The best UGC platforms are more than just a trend.
By incorporating UGC into your marketing strategy, you're not just staying ahead of the curve; you're leveraging the power of your audience to strengthen your brand's online presence.
10 Top-Rated UGC Platforms for Your Business
Now that we've delved into the importance of UGC for your business, let's explore 10 top-rated UGC platforms that can help you harness its power to the fullest.
1. Trend.io
Designed to empower you in crafting influencer marketing campaigns, establishing social credibility, and curating User-Generated Content (UGC) galleries, Trend.io cultivates a thriving community around your brand.
With Trend's UGC platform, you can actively engage with your audience and form enduring relationships.
Highlighted features:
Leverages cutting-edge AI for tailoring shopping recommendations
Provides immediate analytics to track the success of your UGC campaigns
Offers flexible content templates for the swift creation of brand-aligned content
Trend's tool provides a comprehensive strategy for harnessing the power of UGC, boosting customer engagement, and accelerating sales growth.
Pricing: Trend.io starts at $100 for a single creator with packages as high as $1800 for the option to work with 20 creators.
---
2. Taggbox
Taggbox, a leading user-generated content (UGC) platform, enhances the e-commerce experience by providing advanced tagging and search functionalities for easy product discovery.
It emphasizes authentic content through its emphasis on UGC, aiding brands in creating engaging, shoppable galleries for a unique shopping experience.
Long-time customers have seen improved shopper engagement and conversion rates through their use of Taggbox's visually sleek UGC Shoppable Galleries. These act as smart digital asset management tools, offering an intuitive shopping experience that facilitates customer purchases.
Taggbox's key features include:
Display: A tool to create social media walls for physical stores, a popular trend in the hospitality and education markets.
Widget: A customizable UGC widget that integrates UGC, social feeds, and reviews into your website.
Taggshop: A feature that allows the curation of UGC into a shoppable Instagram shop and more.
UGC Rights: A tool to gather UGC and procure rights for content repurposing on your feeds.
Pricing: Taggbox offers the Growth plan at $49/month, the Professional plan at $149/month, and the Premium plan at $299/month.
---
3. Pixlee
Pixlee, a standout in user-generated content platforms, brings an array of features to the table for e-commerce brands. They have recently merged with the company TurnTo, one of the quickest-rising names in the UGC space.
Users consider this a good UGC platform because it offers the following features:
UGC Collection and Curation: Pixlee empowers brands to gather user-generated content from different social media platforms, curate it effectively, and publish it on various marketing channels. It has proven to be a good UGC platform that saves time and effort.
Shoppable Galleries: The platform enables e-commerce brands to create content-rich, shoppable galleries, linking products directly with UGC images for an enhanced shopper engagement experience.
Advanced Analytics Dashboard: Pixlee's dashboard offers insightful analytics for campaign optimization, aiding in building stronger relationships with customers.
Brand Protection: The platform's filtering tools ensure high-quality UGC, maintaining brand image across review sites and other digital touchpoints.
TurnTo Integration: Now an acquired product of the popular online marketing platform TurnTo, Pixlee offers additional shopping tools, enhancing its status as a comprehensive visual content platform.
Pricing: Request a demo for a customized consultation and pricing information.
---
4. Birdeye
Birdeye, a prominent user-generated content (UGC) platform, offers an array of services for over 100,000 businesses.
There are many reasons why Birdeye is widely regarded as an effective UGC platform, such as the following:
Review Management: It simplifies the task of curating user-generated content, making it an effective UGC tool that saves time and effort. It helps businesses manage and monitor reviews, building stronger relationships with customers.
Marketing Tools: Birdeye's expansive toolkit includes automated review sharing, integrated review display, and review-driven marketing tools, facilitating a strong social media strategy for e-commerce brands.
SEO Enhancement: The platform enhances SEO with rich snippet data, acting as a visual content engine to source relevant UGC.
Channel Amplification: It enables businesses to showcase their best reviews across various social media channels, serving as a shopper engagement platform and a social media aggregator.
Pricing: Birdeye offers three tiers, ranging from $299 to $399.
In essence, Birdeye stands as a comprehensive content curation tool that provides a cost-effective solution for creating visual UGC and social proof.
---
5. Bazaar Voice
Bazaar Voice, among the top UGC platforms, is a comprehensive tool for user-generated content management. Businesses can leverage this platform to collect UGC, curate their media and content, and display it as branded content on social media posts and other platforms.
Standout features of this program include:
Customer Relationships: It helps in building trust with customers, which in turn boosts conversion rates.
AI Sentiment Analysis: This feature categorizes each review based on its tone, enabling quick responses.
Social Media Integration: Reviews and ratings from customers can be displayed across various social media platforms.
Pricing: Bazaar Voice offers three tiers: Essential, Advanced, and Enterprise. Request a quote for specific pricing.
---
6. Creator.co
Creator.co stands out as a premier user-generated content platform, delivering flexible options for both brands and creators. Leveraged by top-tier brands like Colgate and Walmart, it offers an economical means to collect UGC, with over 150,000 creators ready to collaborate.
Notable offerings include:
Flexible campaign creation: Brands can run their own campaigns or opt for managed services.
Economical UGC acquisition: The self-serve plan, featuring a content-only option, starts at $460 per month.
Comprehensive resources for creators: Opportunities to collaborate with lifestyle brands and access to valuable tools.
Advanced features: Campaign health checks, custom reporting, and advanced creator insights are included.
Pricing: Creator.co's pricing begins at $460 per month for a self-serve plan, with a minimum three-month subscription, and can reach up to $1795 or more depending on the level of assistance required.
---
7. Grin
Grin is a renowned creator management platform, standing tall among top UGC platforms. With almost 10 years of experience in the UGC world, it's proven its worth to the e-commerce landscape.
It offers a suite of services and has the ability to curate user-generated content and manage branded content effectively.
Key offerings include:
UGC Collection: Grin's platform makes it easy to gather UGC, track it, and repurpose it seamlessly.
Custom Agreements: This feature allows brands and content creators to create unique agreements that cater to their specific needs. It can include terms about content usage rights, payment details, deadlines, and deliverables.
Social Listening: This is a digital marketing term for tracking social media platforms for mentions and conversations related to your brand, competitors, products, or industry. It gives businesses insights into what customers are saying about them online and how they feel about their products or services.
Integration: Grin smoothly integrates with leading eCommerce platforms and real-time communication tools.
Grin is trusted by eCommerce brands like L'Oreal and Urban Outfitters for its user-friendly interface and comprehensive suite of services and metric tracking tools alike.
Pricing: Interested parties are encouraged to request a demo to kickstart their journey with Grin.
---
8. CrewFire
CrewFire is a powerful brand ambassador management app that helps businesses drive sales and grow their online presence through content creation and social media marketing.
Part of BrandChamp, the company has adapted to the digital shift by focusing on e-commerce and social media.
Some of the features offered by the UGC platform that make it a top choice include:
Creation of affiliate links and referral codes
PayPal and ACH payouts
Community message boards
Email and SMS broadcasts
Customizable application forms
Pricing: CrewFire's pricing includes a $1,000 setup fee (waived for annual plans). Monthly SaaS plans range from the $1k/mo Starter plan (for 2 admins and 500 ambassadors) to the $4k/mo Business plan (for 10 admins and 5,000 ambassadors), each with varying features.
---
9. Intellifluence
Intellifluence is an influencer marketing platform aimed to serve small and large brands alike, boasting a network of about 200,000 self-registered influencers eager to participate in user-generated content campaigns.
Some perks of using Intellifluence include:
Easy creation and amplification of custom content
Influencer discovery tool for seamless influencer addition
In-app messaging
Detailed reports
What sets Intellifluence apart is its focus on smaller businesses and the quality of its influencer network. The platform simplifies the process of creating and promoting custom content.
Pricing: Intellifluence offers a completely free plan, followed by paid plans beginning at $99 per month, making it an affordable solution for businesses of all sizes.
---
10. Upfluence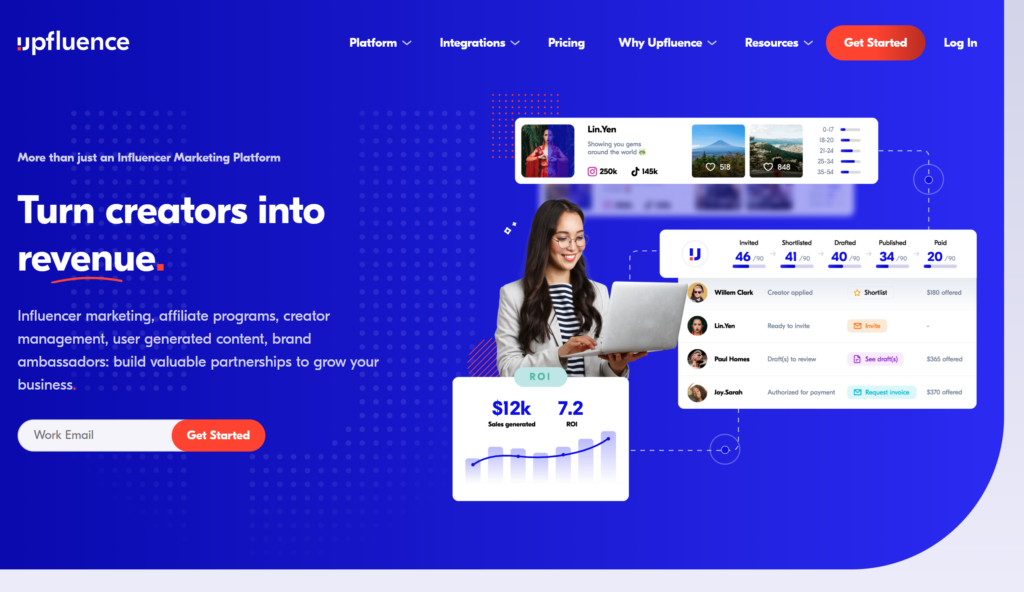 Upfluence, co-founded by Kevin Creusy and Vivien Garnès, is one of the best all-in-one marketing platforms for influencers. It allows brands to turn their pre-existing customers into brand ambassadors, manage campaigns effectively, and drive sales.
This brand is known for the following features:
Influencer search and identification
Outreach and collaboration tracking
Performance tracking, including personalized coupon codes and sales
Influencer matching tailored to client and event needs
Upfluence stands out by offering a streamlined, comprehensive solution for managing influencer campaigns, including onboarding influencers and building long-term relationships.
Pricing: Cost details are available upon request via a contact form on their website's pricing page.
The Bottom Line: Powerful UGC Platforms
When users share content associated with a brand or product, it can have far-reaching effects on customer loyalty and trust. With the right UGC platform, your business can access influencer networks and unlock its true potential.
The platforms discussed above provide unique features that can be leveraged to create powerful user-generated content campaigns that drive business growth.
Whether you're looking for cost-efficiency, ease of use, or scalability, you'll find something that works for your needs in this list.